Hitch World not only can install a hitch on your truck, but rent you a trailer from U-Haul to help you move.
Hitch World is a an Authorized Uhaul Partner. By going with a U-Haul dealer in Pinellas Park you are ensuring yourself you are getting a quality truck to take you where you need to go.
Roll up the cargo door of a U-Haul truck and compare what you see to the inside of the competition's trucks, and two things immediately jump out at you as being part of the U-Haul Advantage: the rub rails and Mom's Attic. These U-Haul exclusives are just a few of the many reasons why U-Haul costs less, even if the price appears to be the same.

Pickup or Cargo Van
Ideal for small jobs and in town moves

10′ Truck
Can fit a studio or really small apartment

14′ Truck
Small apartments up to two bedrooms

17′ Truck
Home or big apartment up to two bedrooms
20′ Truck
Home up to 3 bedrooms

24" Truck
3-4 Bedroom home

26" Truck
4+ Bedroom home

Sports trailer
Capacity: 45 cu ft

4′ x 8′ Cargo Trailer
Capacity: 142 cu ft

5′ x 8′ Cargo Trailer
Capacity: 208 cu ft
5′ x 10′ Cargo Trailer
Capacity: 230 cu ft

6′ x 12′ Cargo Trailer
Capacity: 396 cu ft

4′ x 7′ Utility Trailer
Capacity: 26 sq ft

5′ x 8′ Utility Trailer
Capacity: 37 sq ft
5′ x 9′ Utility Trailer Trailer With Ramp
Capacity: 43 sq ft

6′ x 12′ Utility Trailer
Capacity: 230 sq ft

6′ x 12′ Utility Trailer
Trailer With Ramp
Capacity: 230 sq ft

Tow Dolly
Low cost option for front wheel drive vehicles

Auto Transport
Ideal for long distance moves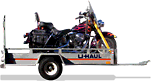 Motorcycle Trailer
Lightweight and easy to tow
Hitch World Inc.
(727) 548-5700